Welcome to Guangdong Changcheng Communication Technology Co., LTD
CCOFC | Changcheng Technology FTTH Fiber to Home Solution
---
CCOFC | Changcheng Technology
FTTH Fiber to Home Solution
1、 Project Overview
With the rapid development of China's network, FTTH fiber to the home is an inevitable trend, and only fiber can achieve a bandwidth of over 100Mbps to the home. Therefore, FTTH has become an inevitable choice and development direction. In recent years, with the continuous development of fiber to home FTTH technology, CCOFC has completed thousands of FTTH renovation and new FTTH projects, becoming a high-quality product provider and technical support provider for communication operators.
2、 Project Design Plan
According to the targeted design distribution of different environmental scenarios, it is generally divided into the following categories: high-density residential or office buildings, low-density residential buildings, large enterprises or hotels.
Design standardization: The entire system complies with the wiring standards recommended by CCITT; Comply with the internal wiring system standards recommended by EIA/TIA for buildings, as well as the current general communication electrical standards in China.
Design indicators: The receiving optical power of ONU is -18dBm to -20dBm, and the user end indicator has a bandwidth of 100Mbps per user.
Scheme topology diagram: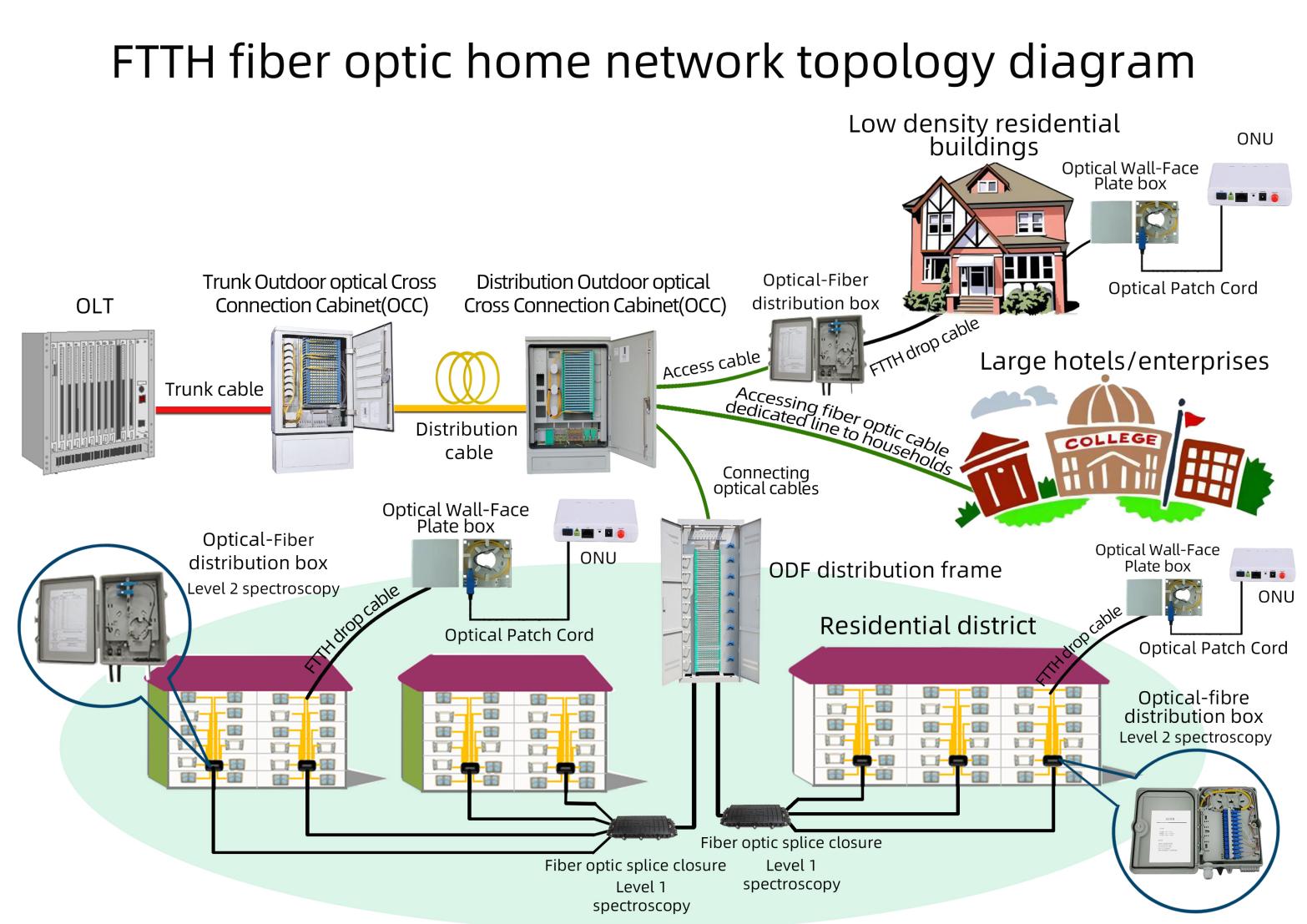 三、List of the recommended program products
| | | | |
| --- | --- | --- | --- |
| number | name | models | remark |
| 1、 | Outdoor optical cable | 96 / 48 / 24 / core | Trunk/ wiring/ access distribution wiring |
| 2、 | Optical cable handover box | 576 core | Backbone/ wiring distribution |
| 3、 | Optical fiber distribution frame cabinet | 720core | |
| 4、 | Cable joint box | 3 in 3 out | |
| 5、 | Fiber Optic Terminal Box | 24/48 core | |
| 6、 | PLC splitter | 1:8/1:16/1:32 | |
| 7、 | Drop cable | 2core | |
| 8、 | Fast Field Assembly Optical Connector | SC/UPC | |
| 9、 | fiber patch cords | SC/UPC-SU/UPC | |
| 10、 | Fiber Patch Panel | SC SX | |
| 11、 | ONU | XPON | |
四、Design features
Openness: The entire CCOFC system can connect computers, switches, and televisions of various manufacturers and models, supporting different network structures. Support the implementation of extended functions such as WIFI.
Convenience: CCOFC meets the requirements of terminal device displacement and line change; As long as simple jumpers are made on the distribution frame, it is convenient to transfer and connect the equipment.
Progressiveness: CCOFC adopts advanced technical standards and construction processes to ensure that it will not lag behind for several years.
Reliability: The equipment and materials selected by CCOFC have been certified by the country, meet safety standards, have a high degree of integration, and can meet the requirements of safe transmission.
五、 About CCOFC
CCOFC | Changcheng Technology Co., Ltd. is a high-tech and computing infrastructure enterprise specializing in research and development, production, and sales, and is a well-known brand of intelligent networking integrated wiring; Product coverage # Communication optical cable series # Data center series # Fiber optic comprehensive wiring series # Copper cable comprehensive wiring series products and solutions; Assist in the comprehensive launch of the Eastern Digital and Western Computing, and provide product and technical support for thousands of engineering projects such as # data center construction # government brain # smart education # digital healthcare.
CCOFC | Changcheng Technology Company's team has been deeply involved in the communication industry for 21 years, adhering to the business philosophy of quality as the foundation, and creating a global leader and well-known brand in the optical communication industry's comprehensive wiring. I have participated in influential and representative communication technology industry exhibitions such as the CIOE China Optical Expo, Germany, France, India, Egypt, Vietnam, Singapore, etc. The glorious journey of 21 years is a history of continuous improvement in quality and technological innovation in optical communication.